News
Hey y'all
We at Absolute Bowie would like to thank everyone for the support and love received at all gigs in 2012,we really have had loadsa fun playing to you all,also thanks for all the comments on the guestbook they mean a lot to us please keep em coming!? :)
Anyway Changelings we have great gigs that we're very much looking forward to at the Boom Boom and Beaverwood to end the year.
Now pple listen we have a the Double Header at The Half Moon for the Bowie Birthday Bash at the beginning of January to celebrate Mr.B's birthday aaaaand mine of course
….. but again try to get your tickets early to avoid disappointment as one night is nearly sold out already so plz check with venue before leaving to travel to Putney.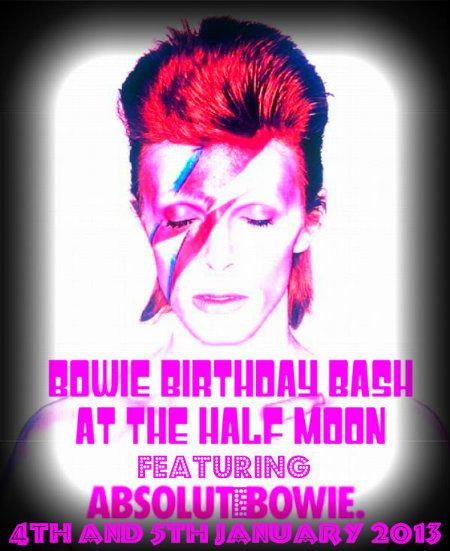 In February you can catch us at a brilliant venue in Otford near Sevenoaks so come one come all (see flyer below)and the promise still stands 'best Ziggy make-up' gets a special prize from Halloween Jack ……. now what could it be!? 
<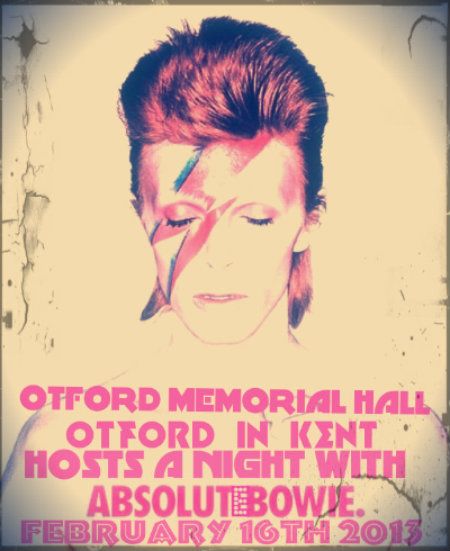 You can reserve tickets for this gig if you follow this link tickets will be kept on the door to be collected by lucky individuals who have reserved.
absolutebowie@rocketmail.com
OH AND A HAPPY NEW YEAR TO YOU ALL ……. ABSOLUTE BOWIE xxxxx